High-Definition and 4K production services
throughout New England
If you're looking for an experienced one or two-person HD or 4K crew in Boston, Providence, Hartford -- or anywhere else in New England - you've come to the right place. My name is Doug Jensen and I have been specializing in documentary and film-style video production for broadcast and corporate clients since 1983. My credits and clients include all the broadcast networks, major cable channels, documentary producers, and corporations needing high-end shooting.
I am also the founder and owner of Vortex Media which manufactures such products as WarmCards, Storm Jacket Camera Covers, and more than a dozen Sony XDCAM training videos and books.
My standard equipment list includes a state-of-the-art Sony PMW-F55 that can shoot variety of video formats, including : XDCAM HD422, XAVC HD, XAVC 4K, RAW 4K, 2K, HDCAM SR, and more. The F55 can also shoot high-speed slow-motion at up to 240 frames per second. Depending on the needs of your production and workflow, I can configure the camera for shooting S-LOG or RAW for the greatest dynamic range and options in post -- or I can configure it with one of my custom scene files that will deliver an excellent "look" right out of the camera with no grading needed. If you need help determining what is best for your production or how to handle the workflow, just ask me.
If you want the shallow depth-of-field and cinematic look of a large-sensor camcorder, you also need several high-end cinema lenses -- not cheap SLR lenses that were built for shooting stills. I own an extensive collection of high-end PL lenses that deliver optimal picture quality, including a Zeiss LWZ15.5-45 PL zoom and a full set of first-generation Schneider Ciner-Xenar primes.
I always record on genuine Sony SxS or XQD cards because your shoot is too important to risk using other types of cheaper, more hazardous media. I also carry a compact off-loading station with a USB 3.0 computer and a USB 3.0 Sony SxS card reader for very fast off-loading of memory cards in the field.
My standard equipment package includes a complete ENG audio system with Sound Devices mixer, top-of-the-line Sony digital wireless mic system, a fully-equipped lighting and grip package, and many "extras" that other crews charge extra for. When you hire me, you get an experienced DP and crew that works exclusively with our own gear (I never rent cameras) -- and that offers many advantages in speed, efficiency and quality.
Speaking of speed, I now prefer to light all of my interviews with LED lighting from Litepanels (no Chinese knock offs!) -- including several Fresnels. And best of all, my typical 5-light interview setup can be operated completely on batteries. No more looking for outlets, no blown breakers, no heat, no fire danger, no cool down time, and the image quality looks fantastic. In fact, all of the interviews shown on my demo reel (see below) were shot with LED lights.
I look forward to working with you soon.
---
Standard Shooting Package Includes:

YOUR CHOICE OF 4K or HD CAMERA:

Sony PMW-F55 w/ R5 RAW recorder
Sony PXW-FS7 w/ XDCA extension unit
Sony PXW-FS5 w/ RAW option
Sony Alpha A7s with PL lens adapter
Sony PXW-Z150 4K & XDCAM

Sony PMW-EX1

XDCAM

MEDIA:

LENSES:

Zeiss LWZ PL zoom: 15.5-45mm, f/2.6

Cine-Xenar PL: 25, 35, 50, 75, 95mm

, f/2.0
Red Pro Zoom PL: 50-150mm, f/2.8

Red Prime Pro PL: 300mm, f/2.9




Sony PL: 35, 50, 85mm

, f/2.0
Duclos 11-16mm PL zoom, f/2.8
Canon 200-400 f/4 with built-in 1.4x
Various macro and specialty lenses


LIGHTING:

15 different Litepanels LED lights of various sizes and styles (including Fresnels)

Stands, cookie, scrims, silks, etc.
Tungsten lighting when necessary

OTHER:

Sony 17" OLED HD field monitor

O'Connor 1030D tripod system

O'Connor matte box and follow-focus
Tiffen matte box filters
WarmCards 3.0

Cinesaddle camera support

Basic make-up kit

USB 3.0 computer and Sony SxS and XQD card readers for fast off-loading of memory cards.

SOUND:

Sound Devices 442mixer
(2) Sony digital wireless microphone system (DWRS01D) w/ ECM-77
(4) Tram-50 lavaliere microphones
Sennheiser 416 shotgun mic
Boompole / Rycote windscreens
RE-50 hand-held microphone

Other Gear: *

Convergent Design Odyssey 7Q+
7Q+ RAW bundle
Leader LV-5330 waveform monitor and vectorscope
Additional wireless mics
Atomos Samurai recorder
Glidecam VistaTrack 200-48 dolly
Dana Dolly w/ 8' aluminum rails
7' portable jib
DSC ChromaDumonde charts
17" Panasonic HD monitor
Portable Green or Blue screens
Muslin backdrops
AutocueTeleprompter system
Standard tungsten light kit with 650W Fresnels and Chimeras

* extra charges may apply
---
About Doug Jensen:
I have more than thirty years of experience as an HD cinematographer, producer, director, editor, and consultant. I graduated from BYU with a degree in Film and Television production. I enjoy being involved in all facets of production and have worked in many areas of the television and video production industry, including: freelance ENG/EFP owner-operator; cameraman for live sporting events and concerts; news photographer; director of photography for documentaries; and a corporate video writer/director/producer.
As one of only a handful of members of Sony's Independent Certified Experts (I.C.E.) team, I frequently teach HD workshops around the United States and in other countries, including Japan, where I have been sent by Sony to consult with their XDCAM EX product development engineers.
I am also on the faculty at Maine Media Workshops where I teach several courses each summer on the subjects of digial cinematography, interview lighting, and producing/writing corporate videos.
In addition to my hands-on experience in the production side of the business, I am also the founder of Vortex Media, which produces in-depth instructional videos, HD camcorder field guide books, and innovative production tools, including: the well-known WarmCards White Balance Reference System and Storm Jacket Camera Covers. My own training videos and books include: "Vortex Media's PDWF800/700 Field Guide"; "Mastering the Sony PMW-F3", "Mastering the Sony NEX-FS100", "Mastering the Sony PMW-EX3"; "Mastering the Sony PMW-EX1R"; "Mastering the Sony HVR-Z7U"; "How to Set Up, Light, & Shoot Great Looking Interviews", and "How to Set up and Shoot Awesome Interviews with LED Lights." I am also the creator, writer, and producer of the popular "Magic Lantern DVD Guides" digital photography instructional video series that is published by a division of Barnes & Noble.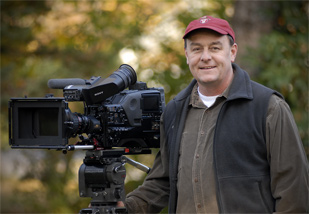 ---
A few clients & credits:

Survivor, Dateline NBC, Big Brother, NBC Sports, Sony, FedEx, PepsiCo, Litepanels, Barnes & Noble, Mystic Aquarium, Worst Case Scenario, TNT, World Trade Center Sept. 11, Brat Camp, E! True Hollywood Story, A&E Biography, Democrat National Convention, A&E Investigative Reports, Foxwoods Casino, HGTV, My Classic Car, TV LAND, Extreme Homes, Perfect Proposal, The Learning Channel, Ambush Makeover, Paranormal Bikers, Speargun Hunter, Room By Room, HGTV, Jacobsen & Friends, Golf Channel, Command Decisions, 5-4-3-2-1, Fox Sports, Christopher Lowell Show, Greystone Communications, Fox Broadcasting, Music Mania, Don Imus Show, Montel Williams, Sundance Film Festival, Back Street Boys, Janet Jackson, Larry King Live, NHK, BBC, ITN, EBU, TNT, Team Alinghi, Court TV, Discovery Channel, CBS Early Show, Sci-Fi Channel, Oprah Winfrey, Modern Marvels, American Justice, NASCAR Images, NBC News, History Channel, NBA Entertainment, ESPN, Sundance Channel, , Fox News Channel, Warner Bros., Animal Planet, The Travel Channel, Secrets, History's Mysteries, The Most, ABC News, ABSAT, Lifetime Channel, Weather Channel, Towers Productions, CBS Productions, Now You See It, Swiss Television, Weller/Grossman, Atlas Media, HomeFront, Holland America, UIX Studios, New Dominion Pictures, Pinnacle, Food Network, Food 911, Fox, MGM, HBO, Zone, Jack Morton Company, Hard Copy, E! Entertainment, Inside Edition, Boating Today, Business Now, Department of Defense, CNBC, NASA, PBS, EXTRA!, CNN, Microsoft, It's A Miracle, Winter Goodwill Games, National Enquirer TV, John McCain, Steve Forbes, Health Week, CBS News, Harvard Business School, Inside Stuff, Good Morning America, U.S. Olympic Committee, MSNBC, Hardball, Ogilvy & Mather, Hasbro, Disney, AMF, Textron, Fleet Bank, Citizens Bank, GTECH, Johnson & Johnson, Sylvania, Home Depot, Gartner, McKinsey, Aramark, Novartis, Pfizer, Bayer, Amgen, Merck, Pampered Chef, Nieman-Marcus, Wendys, UPS, Progressive, Wachovia, Homefront, Ocean Spray, Johnson & Wales, Merrill Lynch, Scholastic, Prentice Hall, IBM, Xerox, Oral-B, Gillette, Lockheed, AARP, Volvo, APC, ECCO Shoes, PriceWaterhouseCoopers, i2 Technologies, The Hartford, Mystic Aquarium, Fox News Sunday, Pratt & Whitney, Texas Instruments, Healthbanks, Centers for Disease Control, F/X, Homefront, Boy Scouts of USA, Anheuser-Busch, Ricki Lake Show, Primedia, Worst Case Scenario
---
2-person HD or 4K crew
$2100
PER DAY
1-person HD or 4K crew
$1550
PER DAY

Local Crew For:
BOSTON, PROVIDENCE, HARTFORD

Fast & friendly
Tons of extra gear
Available 24/7
Owner/Operator
33 years of experience
Non-local Crew For:
CAPE COD
NEW YORK
And all of
NEW ENGLAND
---
CONTACT:
(401) 885-9731
(888) 852-6593 ext. 4
The best way to reach me is usually by Email
---