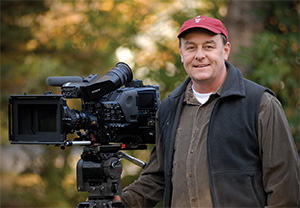 ORLANDO
KENNEDY SPACE CENTER
TITUSVILLE
CAPE CANAVERAL
PORT CANAVERAL
DAYTONA
ALL OF CENTRAL FLORIDA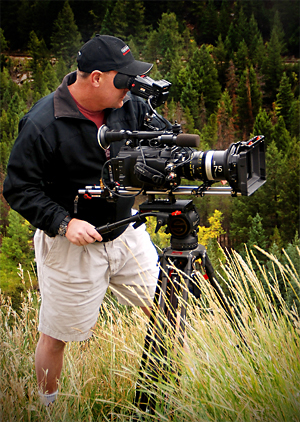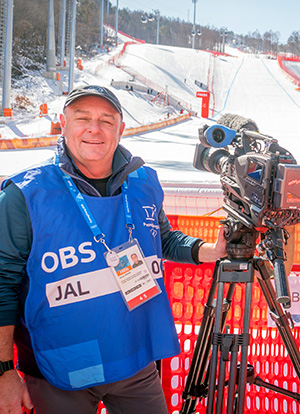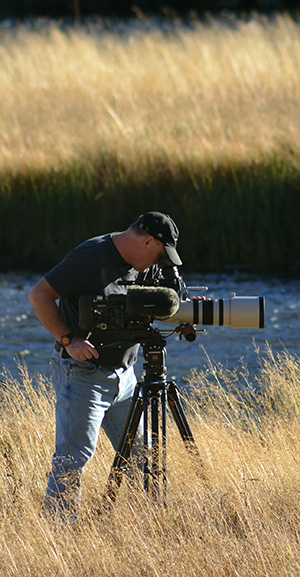 Hello, my name is Doug Jensen and I've specialized in documentary and film-style video production for broadcast and corporate clients since 1983. My credits and clients include all the broadcast networks, most of the major cable channels, dozens of documentary producers, and literally hundreds of businesses and government agencies. When you hire me, you get an experienced DP who works exclusively with his own gear (I never rent cameras) and that offers many advantages in speed, efficiency and quality.
I am also the founder and owner of Vortex Media which manufactures such products as WarmCards, Storm Jacket Camera Covers, InstaBackgrounds, and more than a dozen Master Class training videos and books for Sony camcorders. I spend several weeks each summer at Maine Media Workshops teaching courses on interview lighting, camera operation, and producing corporate video. I have worked for Sony at every NAB since 2007 and they regularly send me out to teach workshops and train VIP customers.
My standard equipment includes state-of-the-art Sony PMW-F55 and PXW-FS7 cameras that can shoot in a variety of video formats, including: XDCAM HD422, XAVC HD, XAVC 4K, RAW 4K, RAW 2K, HDCAM SR, XOCN, ProRes, and more. The F55 can also shoot high-speed slow-motion at up to 240 fps in HD RAW and 120 fps in 4K RAW. Depending on the needs of your production and workflow, I can configure my cameras for shooting S-LOG or RAW for the greatest dynamic range and options in post, or I can configure the camera with one of my own custom Scene Files that will deliver an excellent "look" right out of the camera with no grading in post needed.
I don't use SLR lenses. I own an extensive collection of high-end PL cinema lenses that deliver optimal picture quality. My lenses include a Zeiss LWZ.2 15.5-45 PL zoom and a full set of Schneider Cine-Xenar primes. I always record on genuine Sony SxS or XQD cards because your shoot is too important to risk using cheaper media. I can also provide a compact off-loading station with a computer and Sony SxS card reader for very fast off-loading of memory cards in the field. My standard equipment package includes the top-of-the-line Sony DXW digital wireless mic system, a fully-equipped lighting and grip package, and more.
---
CAMERAS:
Sony PMW-F55 w/ R7 RAW recorder (4K)
Sony PXW-FS7 w/ XDCA extension unit and R5 RAW recorder (4K)
Sony PXW-Z280 camcorder (4K)
Sony PXW-Z90 camcorder (4K)
LENSES:
Zeiss LWZ.2 PL zoom: 15.5-45mm, f/2.6
Cine-Xenar PL: 25, 35, 50, 75, 95mm, f/2.0
Red Pro Zoom PL: 50-150mm, f/2.8
Red Pro Prime PL: 300mm, f/2.9
Sony PL: 35, 50, 85mm, f/2.0
Duclos 11-16mm PL zoom, f/2.8
Canon 200-400 f/4 with built-in 1.4x
Various macro and specialty lenses
SUPPORT:
O'Connor 1030D head and 35L legs
Sachtler FSB-10 head and Flowtech 100 legs
Sachtler FSB-6 head and Flowtech 75 legs
Sachtler Caddy tripod system
Dana Dolly w/ 8' aluminum rails
eMotimo programmable motion-controlled head
Cinesaddle
Glidecam VistaTrack 200-48 dolly
7' portable jib
LIGHTING:
SOUND:
(2) Sony digital transmitters (DWRS01D) w/ Sanken COS-11D
(1) Sony digital wireless receiver (DWRS01D)
(4) Tram-50 lavaliere microphones
Sennheiser 416 shotgun mic
Boompole / Rycote windscreens
RE-50 hand-held microphone
Sony PXW series wireless microphone and transmitter
OTHER:
Sony 17" OLED HD field monitor
Panasonic 17" HD field monitor
Leader LV-5330 waveform monitor and vectorscope
Convergent Design Odyssey 7Q+ w/ RAW bundle
Tiffen matte box + filters
WarmCards 3.0
Basic make-up kit
Portable Green or Blue screens
Muslin backdrops
15" Teleprompter system
Some of my Clients and Credits:
Survivor, 60 Minutes, CBS Sunday Morning, Olympics (OBS), Dateline NBC, Big Brother, NBC Sports, Sony, FedEx, PepsiCo, Litepanels, Barnes & Noble, Mystic Aquarium, TNT, E!, A&E, Foxwoods, HGTV, TV LAND, Extreme Homes, TLC, Speargun Hunter, Jacobsen & Friends, Golf Channel, Command Decisions, Fox Sports, Greystone, Fox Broadcasting, Sundance Channel, NHK, BBC, ITN, EBU, Team Alinghi, Court TV, Discovery Channel, Sci-Fi Channel, Oprah, American Justice, NASCAR Images, NBC News, History Channel, NBA Entertainment, ESPN, Warner Bros., Animal Planet, The Travel Channel, ABC News, ABSAT, Lifetime, Weather Channel, Towers Productions, CBS Productions, Weller/Grossman, Atlas Media, HomeFront, Holland America, New Dominion Pictures, Pinnacle, Food Network, MGM, HBO Zone, Hard Copy, Inside Edition, U.S. Department of Defense, CNBC, PBS, EXTRA!, CNN, Microsoft, Goodwill Games, National Enquirer TV, Health Week, Harvard Business School, Good Morning America, U.S. Olympic Committee, MSNBC, Hardball, Ogilvy & Mather, Hasbro, Disney, AMF, Textron, Fleet Bank, Citizens Bank, GTECH, Johnson & Johnson, Sylvania, Home Depot, Gartner, McKinsey, Aramark, Novartis, Pfizer, Bayer, Amgen, Merck, Pampered Chef, Nieman-Marcus, Wendy's, UPS, Progressive, Wachovia, Ocean Spray, Johnson & Wales, Merrill Lynch, Scholastic, Prentice Hall, IBM, Xerox, Gillette, Lockheed, AARP, Volvo, APC, PriceWaterhouseCoopers, The Hartford, Mystic Aquarium, Fox News Sunday, Pratt & Whitney, Texas Instruments, Healthbanks, Centers for Disease Control, F/X, Homefront, Boy Scouts, Anheuser-Busch, Primedia, Dept. of Veteran Affairs, University of North Carolina, University of Oklahoma, National Reconnaissance Office, Defense Media Activity, New England Tech, Maine Media Workshops, and more.
© 2019
Doug Jensen / Vortex Media